We offer a choice of two fully air-conditioned models.
The Duo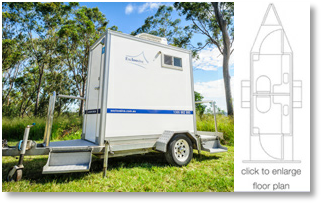 Dimensions: 3.1m(H) x 2.2m(W) x 4.8m(L)
Our Duo unit caters for approximately 100 guests (depending on event type).
Ladies & Gentlemans facilities
The Quad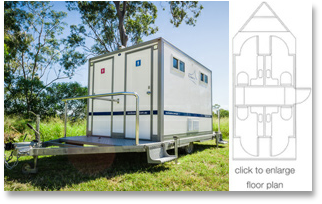 Dimensions: 2.6m(H) x 2.8m(W) x 6.6m(L)
Our Quad unit caters for approximately 150 guests (depending on event type).
Ladies & Gentleman's facilities
Features
Fully Air Conditioned for your Comfort.
Totally self-contained units, all that is required is a standard 240V electricity supply. No sewage or mains water connection is needed.
Depending on the exclusivity of your event we can also supply perfumes, deodorants, aftershaves, hair products and hand lotions.
Selected units are fitted with CD players therefore ambient music can be individually tailored to your event.
All units can be supplied in a combination to suit your event as they are supplied with interchangeable high quality magnetic door signs.
Health and safety is a priority. All our units are fitted with slip-resistant flooring and non-slip access steps with hand rails.